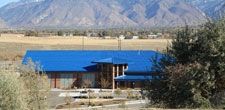 http://www.jvwcd.org/images/facility-swgwtp.jpg
So, what's so special about Jordan Valley's Groundwater Project and what does reverse osmosis have to do with it?? Without spoiling too much of our field trip event, here are some details…
There's about 50 square miles of contaminated groundwater resulting from historic mining activity by Kennecott Utah Copper. This underground aquifer needs to be cleaned up not only because it's the right thing to do, but because treatment will allow more water to be available to Salt Lake Valley residents. This project is a unique nationwide example of a private –public-regulator partnership to turn a remediation mandate into a significant water development project.
http://www.riotinto.com/annualreport2008/images/feature_copper2.jpg
There are two reverse osmosis plants that treat the contaminated groundwater. One is owned and operated by Rio Tinto, Kennecott Utah Copper and the second is owned and operated by Jordan Valley. This second plant just came online last year and is the one we will be touring. Reverse Osmosis technology involves pressurizing water then sending it through a semi-permeable membrane. This process "filters" out harmful dissolved solids such as sodium chloride, calcium carbonate, and sulfate. The result: clean, safe water!
When you think about it, it's pretty amazing that we have the technology to reverse the damage from 100 years of mining activity. Jordan Valley's Groundwater Project will take 40 years to clean up most of the contaminated groundwater and will continue to treat water even after the project is complete.
Take the opportunity to get a close up look at this amazing treatment process! RSVP to WOW to reserve your spot!
Jordan Valley Reverse Osmosis Tour
January 29th: Noon-2 pm
(CEUs and Lunch will be available!)